Celebrate America – United We Stand
August 19th, 2017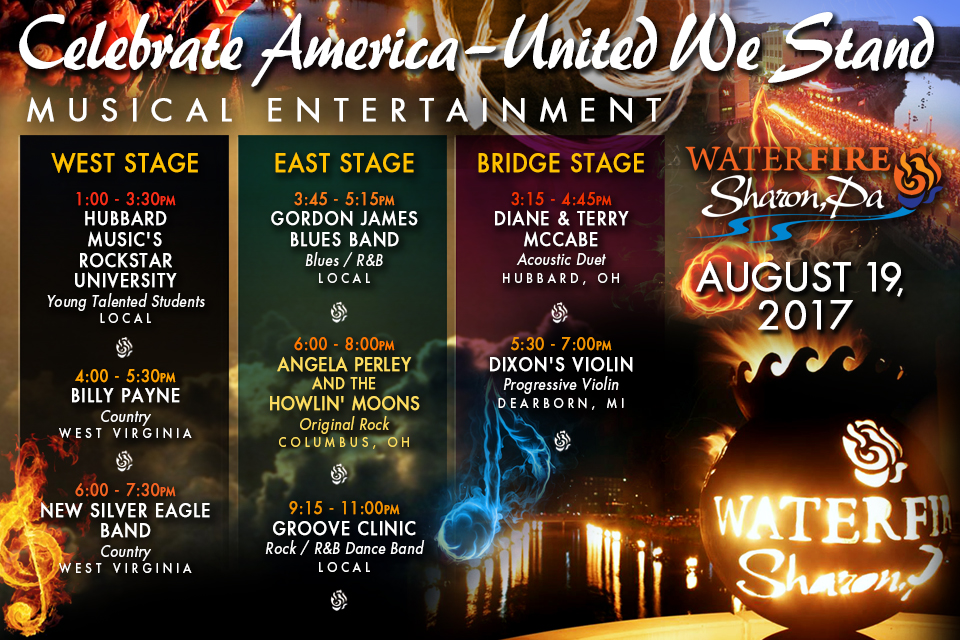 WaterFire Sharon is proud to bring "Celebrate America – United We Stand" as its theme for this Saturday, August 19. The theme was chosen because we truly believe that we have much to celebrate – starting with our freedom – and many to honor – starting with our veterans.
Watch for some patriotic drop-ins and pop-ups throughout the day.  Visit the orb to learn more about two special veterans who will light it for the evening ceremony.  Most of all, please thank a veteran for their service!  Freedom has never been free, and for that – WaterFire Sharon says "Thank you for your service!"
New to WaterFire this year – A military area that includes a tented place to sit for our region's veterans with information and giveaways for former and current service members, as well as flags and other patriotic items for the public. Plus, a Historic World War II Jeep for photo opportunities, Patriotic Art Gallery, Board Game station by The Salvation Army of Sharon, and a representative from the National Gold Star Families organization! We will collect new socks and small toiletries for the "MilitaryShare" program and Americana Association. This area is sponsored by the Shenango Valley Chamber of Commerce.
Artists and food vendors will open at noon. Enjoy the tastes of our festival throughout the day and evening. From roast beef sandwiches, burgers, BBQ, gyros, and so much more, be sure to visit our two WaterFire Food Courts. Our East End Food Court is located between Railroad and Chestnut Streets. Our West End Food Court is located in the Reyers Shoe Store parking lot. Both areas will serve food until 11 pm. Indulge yourself in some delicious foods while waiting for the braziers to light at dusk.
More than 65 artisans and non-profit organizations will cover the downtown streets from the intersection of E. State and Dock Street through W. State Street and Main Street. We have craft vendors, fine artists, jewelry makers, and more – a little something for everybody! Be sure to stop in every tent:  you never know what you'll find. Also, enjoy pop-up musicians playing throughout the streets of beautiful downtown Sharon.
Bonus:  look for the George Washington impersonator walking around taking pictures with guests from 3-8 p.m.
Honoring Our Veterans!
WaterFire is proud to have so many veterans working with us as volunteers. Three of the boat captains have served in the military and we'd like to recognize them:  Chris Gagliardi, Tim McGee and Mike Kovach. These gentlemen will light the braziers at Saturday's WaterFire, in recognition of their time spent serving our country. In addition to these veterans, we'd like to recognize Gary Calleja who has served in WaterFire's Special Operations with us since our beginning. We know there are more veterans in the volunteer ranks with us, and to all of them – WE SALUTE YOU and we thank you for your service to our country. Our freedom is because of those who serve – THANK YOU!
Magic on the River – Performances
Keep an eye on the river for musical performances. The river festivities will begin at dusk with a Native American Blessing of the river by Leon Briggs.
Fire Performer Jimmy Pyro
Fire Performer, Jimmy Pyro, will perform several times throughout the evening. Watch for him on a boat on the river and the bridge abutment. Jimmy is a born thrill seeker, and a natural entertainer. He has always been drawn to the power and sound of fire, which he uses to captivate his audience with explosive and dramatic performances. Jimmy Pyro has been professionally performing for eight years and has entertained over 250,000 people. He will leave you talking for years to come and a memory you will never forget.
Two Guitars – Tyler & Bill
Playing on the river throughout the evening. Two Guitars will perform from the bow of Chenango around 5 p.m., 9 p.m., and 10 p.m.
Angela Grace
The amazing Angela Grace, professional singer, will be performing around 9 p.m. and 10 p.m. on the State Street Bridge. Look for the glowing globes to appear on the river and add a touch of magic to the evening.
Aerialist Diane Zizka
You won't want to miss these performances at the intersection of Shenango and E. State Streets! Aerialist Diane Zizka is a solo performer from Cleveland, Oh., and has been entertaining crowds with her aerial skills since 2009. She has performed all over the country at various street events. Diane combines her dance and strength skills into a graceful, daring feat of human ability, climbing great heights and dancing in the air, dropping into the fabric… and building a truly jaw-dropping experience for the spectator. Diane is also a fine artist and recent graduate of Cleveland State University with a B.A. in Studio Art.
Performance Times: 7 p.m., 8:45 p.m., 9:30 p.m., 10 p.m., and 10:30 p.m.
Calling All Kids!
The Children's area of WaterFire Sharon will have lots to do, from 1 pm –7 pm!
Add-in friend making, lots of laughs and loads of fun!
Also, enjoy the PNC Mobile Learning Adventure! The Mobile Learning Adventure (MLA) is a traveling exhibit that provides an opportunity for parents and caregivers to learn about the importance of early childhood education while having fun with their children. The educational exhibit allows parents and children to engage in unique, interactive activities — whether visiting a learning kiosk, imagining the future, or exploring the difference between a need versus a want. It's a great way to discover how everyday moments are learning opportunities. WaterFire is delighted to have this very special adventure available for our children and thanks PNC Bank for making it available to us.
Don't forget the petting zoo that is located in Riverside Park, sponsored by Sharon Recreation Commission. The animals welcome a visit from you!
| | |
| --- | --- |
| 1 – 7 p.m. | Interactive Chalk Art |
| 2 – 6 p.m. | Sharon Tiger Techs Robotic Team |
| 2 – 4 p.m. | The Twirling Angels – baton group |
| 1 – 5 p.m. | Sharon Regional -CPR and safety tips |
| 1:30 -2:30 p.m. | Kids' Yoga |
| 1 – 7 p.m. | Flag Craft |
| 1 – 7 p.m. | Kiddie Pool for Bubbles |
| 1 – 7 p.m. | Children's Center (water board game) |
| 1 – 7 p.m. | Humane Society |
| 5 – 7 p.m. | The Pink Pantherz (dance group) |
| 1 – 7 p.m. | PNC Mobile Learning Adventure |
| 1 – 7 p.m. | Salvation Army Canteen |
| 1 – 7 p.m. | Paper Flowers |
Meet the United We Stand Orb Lighters:  Bill Perrine and Jim Cardamon
Bill Perrine
Bill Perrine has had a very successful career in the steel pipe and tube industry. He began his career with the Sharon Tube Company as a laborer and through a series of advancements and had hands-on experience in all divisions of the company. After serving with firms in West Virginia and Missouri, he returned to Sharon Tube in 1992 as VP of Operations. Through another series of advancements, Bill became President and CEO in 2002, after 32 years of service.  He retired in 2007 only to be recruited back by Sharon Tube to serve as President for an additional three years.  He holds degrees in both Science/Chemistry and Metallurgical Engineering.
In addition to the impact Bill has made on both employment in the area and hundreds of employees' lives, he still found time to be supportive of the community. His extensive involvement in charitable and community organizations include serving in leadership and as a board member for: The Buhl Trustees, Hope Center for Arts and Technologies, CHIP, Youngstown Air Reserve Base Community Council, Freedom Warrior Charitable Fund, Pittsburgh Symphony Orchestra at the Scottish Rite Cathedral, Penn State university Shenango Advisory Board, Penn NorthWest, Sharon Regional Hospital, and their Physician Services, United Way of Mercer county, Shenango Valley Industrial Development Corp., Shenango Valley Chamber of Commerce, Industrial Information Institute for Education, and Strimbu Memorial Fund.  He has been recognized by the Chamber as "Person of the Year" and by the Boy Scouts of America as a "Distinguished Citizen."
We honor Bill not only for his overwhelming influence and involvement in our community, but for his service in the Military.  Serving the US Army Reserves for 23 years, Bill was assigned to the 475th QM Group and the 1036th USAR School Units in Farrell PA. Activated in Operation Desert Storm in 1991, he retired as an E8, Master Sergeant in 1994. While serving, Bill received Military Award and Decorations including 2 Meritorious Service Medals, 2 Army Commendation Medals, Army Achievement Medal, ARCAM with four oak leaf clusters, National Defense Service Medal, ARCAM 10-year with Device, NCO Professional Development ribbon with three designations, ARMY Service Ribbon, Overseas Service Ribbon with three designations, Excellence in Competition Badge (pistol), Expert Marksman Badge (rifle) and as Member of 99th ARCOM and 1st US Army Pistol Team.
Bill and his wife, Stella, have two daughters and six grandchildren. They make their home in Sharon and continue to be supportive of their community.
WATERFIRE is honored to have Bill light the August 19th ceremonial Orb. We THANK YOU, BILL PERRINE, and HONOR you for your service in the United States Military.
Jim Cardamon
Jim Cardamon is a well-known individual in the community, both in the professional and charitable settings. Having spent his career in banking, he retired from First National Bank of PA in 1998. At the time of his retirement, Jim was serving as Senior Vice President of Retail Banking.
He has been a strong community supporter and served on several boards, including: F.H. Buhl Club (President), Shenango Valley Urban League, and the Sharon Country Club. Jim has also served as the Campaign Chairman for the United Way, and was recently President of The Society of The Honor Guard, Tomb of the Unknown Soldier, of which he was a founding member.
Tonight, we honor Jim for his service in the military, the U.S. Army, from 1956 – 1958. He spent time in Fort Knox, and Fort Dix, and served with the 3rd Infantry Regiment (The Old Guard) in Ft Myer, VA. He was also part of the U.S. Army Drill Team/Color Team.  During his time, he was chosen to serve as a Tomb Guard Sentinel, at the "Tomb of the Unknown Soldier," Arlington National Cemetery. Sentinels are considered to be the best of the elite 3rd U.S. Infantry Regiment (The Old Guard).
This distinction goes to only those elite who possess an unblemished military record and meet superb physical conditions, while keeping their uniforms and weapons in immaculate condition. After testing on manual of arms, uniform preparation and walks, a Badge Test is given. This test questions the Sentinel on 100 of 300 items regarding the history of the Cemetery and the Tomb of the Unknown Soldier.  If passed, a Sentinel will begin further training, to guard and honor those laid to rest there. The guards are in place 24 hours a day, 365 days a year – no exceptions.   Jim was award TGIB (Tomb Guard Identification Badge) on the first day they were awarded, February 7, 1958. He was on Post the day Queen Elizabeth laid a wreath at the Tomb, in the Fall of 1957.
Jim is a Founding Father of The Society of the Honor Guard. This non-profit organization sis committed to protecting and enhancing the welfare and image of both the Tomb and the Tomb Guards. The goal of the Society is to assure the individuals who made the ultimate sacrifice of their life are not forgotten, and that we all understand this price of freedom. Freedom comes to us by sacrifice, and it has never been free.
Jim and his wife, Reenie, have three children and six grandchildren.
WaterFire is honored to have Jim Cardamon light the August 19th ceremonial Orb. We THANK YOU and HONOR YOU JIM, for your service!
Starlight Garden
Visit WaterFire Sharon's "Starlight Garden", located on the corner of South Water Avenue and Connelly Boulevard. Between 5 to 10 p.m., for $20, a donor will receive both a lit star with a ribbon, and a luminary with a blank card. The ribbon is used to write a wish or message on, and will be hung with the lit star in "Starlight Garden". The card is also meant for the donor to write their wish or message on, and place it beneath the luminary. After the wishes are written, WaterFire Volunteers will be onsite to hang the star where the donor chooses within the garden. Not only is this a beautiful, magical looking spot of light along the river, it's also a chance to personalize the experience of WaterFire even more. Writing a wish for the world, a loved one, even yourself, or sending a message to someone a far, it's all up to the writer. After each event, the wishes are sealed, brought to the river operations and placed in a brazier at the following fire. A bow on that brazier designates for you where your wishes are. Enjoy how beautiful the blue glow of the stars looks paired along the orange glow of the braziers lit in the river. So what are you wishing for? From your friends at WaterFire, Sharon PA, "May all your wishes come true!"
Henry Ekker Autograph Collection
Enjoy sports? Admire athletes and their accomplishments? Then you won't want to miss this one of a kind collection. Inside the library you'll find a large, autographed, and unique sports memorabilia collection on display from 10 a.m. to 5 p.m. There is no charge to visit this collection that you'll find on the library's first floor. Also, located at the Community Library is The Literary Garden.  Members of Random Acts of Artists (RAA) installed this garden to help bring awareness to the importance of literature and the arts in our community.  Each of the over 40 posts are painted to represent a book or piece of literature theme of the artist's choice.  Be sure to visit this inspirational garden.
Art Hotspots
As you stroll through downtown Sharon this 2017 WaterFire Sharon season, be sure to look for the many art spaces that are growing along the river! Here are some art points of interest to seek out.
The vibrant mural on the Community Action building, was the first large scale mural work in Sharon by Leslie Michaels and friends.
There is also a fun Sharon, Pa. mural near the Laskey's building on N. Water Ave, facing State Street.
And of course, admire beautiful downtown Sharon's newest large scale art addition to downtown Sharon! Located W. State St. Reyer's building- Mural by Joel Bergner, students from HOPE C.A.T and local artists contributors.
Look to the corner of S. Water Ave & State St.- "It's a Wonderful World" Sculpture art of trumpet player- George Junior Republic and Sharon HS students.
The "Can Opener," or "Angel" is the oldest sculpture art installation in Sharon at S. Water Ave & Connelly Blvd. It is made on Cor-ten Steel that when it rusts forms a protective coating, the same steel that was used on the Oakland Viaduct. It weighs 10 tons and actually is in need of some repair. The artist intended the structure to rust into a bed of slag. The slag has since been removed for flowers. It is located in George Warren Memorial Park/Garden on Water Ave.
The Random Acts of Artists (RAA) have been essential to creating new art spaces downtown:
River Gardens Park – "Garden Gallery" colorful art installation – RAA artists
River Gardens Park – "Willow Way" living willow archway- Carol Novosel & RAA artists
Community Library of the Shenango Valley – "Literary Garden" colorful art installation with literary theme- RAA artists
New for this season – "PEACE ROCKS" and RAA will be placing hundreds of painted and tagged rocks around Sharon during WaterFire. Start looking for them tucked around town any time after 2 pm. Want to participate? Stop by the volunteer registration booth at the center of town and take a rock — trade it, hide it, or pass it along to a friend! It's sure to make you smile.
Check out the alley across from Vine St.( between Michael Anthony's and the Uniform Shop) – "Random Interface" 26 large portraits line the alley- RAA artists
Corner of S. Water Ave & State St. – "Indian Drum" Improvised mixed media drum assemblage – Stella Shine & RAA artists
Corner of S. Water Ave & State St. – "Dueling Pianos" Improvised mixed media and wind chime assemblage – Terry Polonsky & RAA artists
Cravings Cafe & Creamery, 76 Shenango Ave. RAA's "Artist of the Month" – The paintings by 20 RAA artists which were used as props in the Black Sheep Player's production of "Love, Loss and the Clothes I Wore". All 20 of these paintings will be auctioned off on August 12th as a fund raising event to benefit the local Autism organization. All proceeds go towards Autism.
Never Enough Yarn, E. State St – RAA Gallery at NEY- Linda Brink will be the featured artist at the RAA Gallery at NEY (Never Enough Yarn) for all 3 Waterfire events this season.
Columbia Theater Park – Various art contributed by RAA artists.
Various locations around Sharon, "Painted Trash Barrels" – RAA artists
RAA WATERFIRE EVE EVENT – Friday, July 14 from 7-10 p.m.- Alley across from Vine St. between Michael Anthony's and the Uniform Shop- Public Presentation and Thank you party for all artists involved with the "Random Interface" art installation project. Music, taco bar, and more.
Look for art hidden on the streets:  All artist vendors and various RAA artists will be participating in the "Abandoned Art" project. Look for plastic bags with a note saying "You found me now I'm yours." The art inside of the bag is yours for free.
Impromptu Art & Music:  There will also be several artists set up in the streets demonstrating their artistic talents for the public. These will range from raku pottery to drumming. Some planned, some popups – keep looking as you don't know what you'll see and where!
Our Artist Marketplace is Growing and Always Welcomes New Talent:  WaterFire Sharon, PA is excited to announce Jenn Crisan as our new Artisan Coordinator. Jenn is a fine art painter and is familiar with the local and national art market scene. We are working to grow the artisan marketplace at WaterFire Sharon. Apply via our website or directly here. Contact Jenn at jenncrisan@gmail.com or artistinfo@waterfiresharonpa.org with any feedback or questions. We are looking forward to a great selling season in the artisan marketplace!  Apply any time on the Zapp App. (Booth Size: 10′ x 10′)
Booth Fee:
One Event = $60
Two Events = $100
Three Events = $120
Seen enough? Ready to get Involved?
Have you seen enough to make you want to join? We welcome new volunteers! Come alone, in a group, whatever works for you! Whether you want to help in the preparation and planning, help set up vendors, work at the information center, tend to the braziers during the evening, or a variety of other areas to lend a hand, WaterFire Sharon would be happy to have you. Our volunteers are known to say things like, "I met so many new people and made so many new friends," and, "It's fun to be a part of something so big!" and, of course, "I'm always proud to see so many people come to our area and witness what we have going on here." Maybe you'll feel just that same way after experiencing WaterFire as a volunteer. Sign up for the next WaterFire event at the Souvenir and Information Center located at the corner of W. State Street and S. Water Avenue – in front of the food court. Ask questions and see what you may enjoy the most! If you can't visit the booth, call our volunteer coordinator at (724) 301-1868 and Janet will be happy to fill you in on all the opportunities available to be a part of WaterFire.
Keep the fires burning!
Want to see WaterFire continue? We do, too! Please consider supporting this great event financially. Every dollar counts to make each lighting one that is safe, enjoyable, and a great mark on our entire area.   A boost to tourism and business, WaterFire is also part of the celebration of the arts in the region. As part of the Community Foundation, your contribution is tax deductible.  To make a donation, you can visit the Souvenir station during the event. Please help us keep the fires burning! Any donation to WaterFire Sharon is appreciated!  We simply cannot do it without our generous sponsors. Won't you consider a sponsorship, big or small today? All financial contributions to WaterFire Sharon are 100% tax deductible.
Make a tax deductible contribution online here or send to: WaterFire Sharon, 7 West State Street, Suite 301, Sharon PA 16146 (724) 981-5882 x111 info@waterfiresharonpa.org
Your Donations at Work during WaterFire Sharon
Did you ever wonder if you could make a donation to WaterFire that could even make a difference?  On the river, there are so many things you can sponsor – things that you can personally see and enjoy!
It costs WaterFire about $6,000 to outfit the four boats per WaterFire season!  You could sponsor one boat for the entire season for $1,500.  Maybe you would prefer to sponsor one boat for one event? That would only be a $500 donation!
The kayaks are always in demand, but they cannot please the crowd without a cost!  To outfit 20 kayaks for the season, a donation of $1,020 will pay for the supplies needed to make fanciful pinwheels, sparkling hoops and glowing fish.  Can't afford the whole lot?  A donation of $17 will help us to equip one kayak during one fire.
And what about all those braziers?  For $250, you can sponsor one brazier for the entire season!  That pays for the wood, fuel, hardware and the TLC it needs so it can be in its best shape to perform for our WaterFire guests.  There are over 50 braziers lit during each WaterFire!
The most affordable sponsorship comes with our torch procession.  One torch for all three events costs just $15.00. Interested in sponsoring all of the torches for the summer?  It's yours for $1425.00! That's 60 torches that will burn brightly because of your donation.