Carry a Torch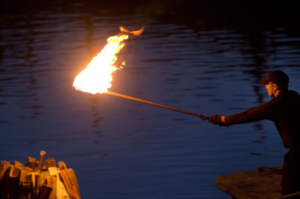 Would you love to carry a torch for WaterFire Sharon?  We want to offer you the unique opportunity to be a torch bearer for the fire of your choice in 2017!  For just $10, you can reserve your spot today!  Hurry, only the first 50 people who complete their reservation for each fire will be accepted.
Having a family reunion?  Graduation party?  Would your family like to honor or remember a loved one together?  This is unique way to celebrate any occasion with a group.  Click the "Torch Sign-Up" button to complete the torch bearer form.  Payment must be made online prior to the WaterFire event.  You must include an email so that we can send instructions that will ensure the safety of those participating.
General torch bearer instructions: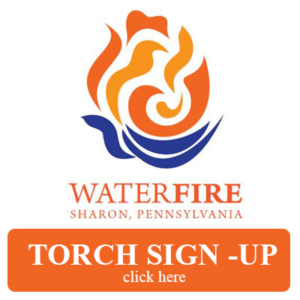 Please report to the boat launch behind Quaker Steak and Lube at the designated time (you will be sent an email with detailed instructions).  Each torch bearer must be dressed in solid black with logos taped over.  You may wear a pin/button/lanyard to designate your group if you would like.  Torch bearers should wear long sleeve cotton shirts, tie back long hair, and wear closed-toe, black shoes.  You must be able to hold the torch (about 1.5 pounds) with the flame above your head for approximately 4 minutes.  Volunteers will be available if you need assistance.  No hats please.
All financial contributions to WaterFire Sharon are 100% tax deductible.
For questions contact:
WaterFire Sharon 7 West State Street Suite 301 Sharon PA 16146 (724) 981-5882 x111
info@waterfiresharonpa.org