WaterFire is a world renowned, multi-sensory art event that can be experienced in Providence,  Columbus, Kansas City, Singapore, Rome, and Sharon.
Over fifty custom built floating braziers are anchored in the Shenango River in downtown Sharon, PA.  The baskets are filled with wood and set ablaze at nightfall to produce a unique and compelling display.  Fire and Water are opposing elements, and there's something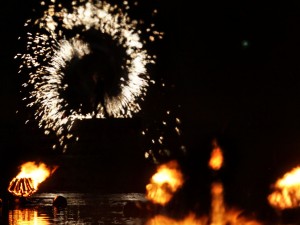 synergistic about these flames blazing atop the water in their specially engineered braziers.  Music plays on a custom audio system which supplies the soundtrack backdrop.  WaterFire events aren't for everybody, but there's only one way to find out if its for you.  Come and attend one of the most interesting art installations in the world, and Mercer County's Shenango Valley is a perfect location.  Maybe it's one of the reasons that people keep returning to these performances…and return they do.
Nearly 70,000 people attended the three events in the 2013 inaugural season.  WaterFire Sharon is staffed entirely by volunteers, and each performance has about 350 of them.  Obviously staging an event of this magnitude calls for a tremendous amount of community involvement, and people from all over Western Pennsylvania and Eastern Ohio are actively involved.  It is not uncommon for visitors to return as volunteers for subsequent performances.  People not only travel significant distances to see WaterFire, they also travel to volunteer!

Each day-long event offers music, food and interactive arts experiences; all free of charge to the public.  Actual WaterFire performances begin at dusk.  Fire performers and other event entertainers add to the experience on, and around, the river; all accompanied by a very cool mix of live and recorded music.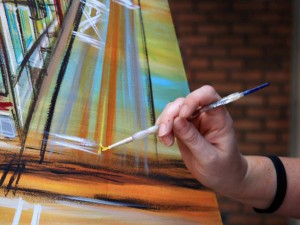 WaterFire is a multi-sensory performance event created by Barnaby Evans in the mid-1990s as WaterFire Providence.  It completely transformed a city, a community and a people, and delivered a public art form that came to symbolize the city's effort to make the arts a major player in the revitalization of its downtown. WaterFire Providence's success has been well documented and its expansion to different venues around the world substantiates its place as one of the significant community art forms of our generation.